TURTLE POWER
£

95.00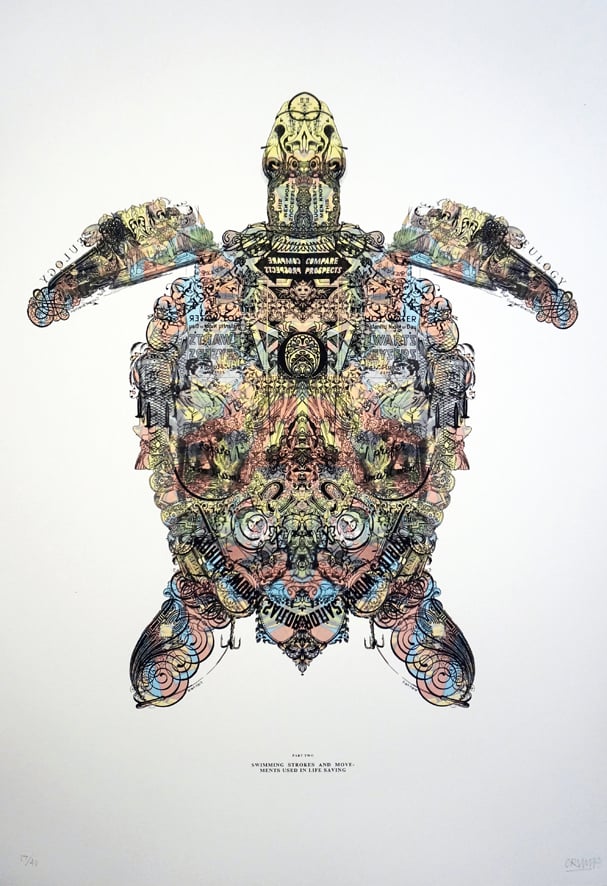 This collage piece was created for the celebrated Ark show by Bear Cub Gallery in 2014 in London. The exhibition celebrated and supported endangered animals, and each artist exhibiting had to create two pieces, to have their animals enter The Ark, literally two by two.
This digital collage has been created from source material from as old as the 18th century. Constructed from nostalgia, whimsy and inspired by the hawksbill turtle. Created from over 80 separate images sourced from vintage material from my personal collection. Source material includes pieces from a 1963 Royal Life Saving Society release called "On Guard", a 1973 "Gone Fishing" guide, and Punch newspaper articles from 1932, and much more. It was finished with a backdrop from a 1990 Teenage Mutant Ninja Turtles comic. The closer you look the more you will see a boy wielding a knife fighting a giant squid, girls drifting on a raft, sailors knots twined through fishermans grapple hooks to name just a few snapshots within.
Measuring 42 x 29.7cm and using the very best in photo imaging equipment – the Epson 9900 with its 11 colour Ultrachrome ink technology and Hahnemuhle Photorag 308gsm paper (Smooth)– combining for simply stunning images.
Share